Leopard geckos, revered for their distinct appearance and behavior, often exhibit digging tendencies, puzzling many owners with the mysteries behind such actions. If you're wondering, "Why is my leopard gecko digging?" you're not alone.
This peculiar behavior is primarily attributed to natural instincts, environmental factors, or physiological processes. Digging can be an indication of several things, such as a female gecko's reproductive activities, a gecko's response to environmental stress, or a mechanism for temperature regulation.
It can also be a part of their shedding process, a way to hide, an expression of curiosity and fun, a method to search for food, or a reaction to confined space.
Key Takeaways:
Natural Instinct for Females: Female leopard geckos often dig due to their reproductive cycle, preparing a spot for laying and caring for eggs.
Signs of Stress: Excessive digging can indicate stress. Ensure their enclosure offers a temperature gradient, with a heat source reaching around 88-92°F and a cooler end of 75-80°F.
Shedding Behavior: Geckos may dig more when shedding. Recognize the signs, like dull and opaque skin, and assist by providing a humid hideout.
Hiding and Exploration: Geckos love hiding and exploring. Ensure they have multiple hideouts and a spacious environment to meet their instinctual needs.
Food Seeking: Digging can also signify a search for food. Leopard geckos, as insectivores, thrive on a varied diet including live insects.
Why Is My Leopard Gecko Digging?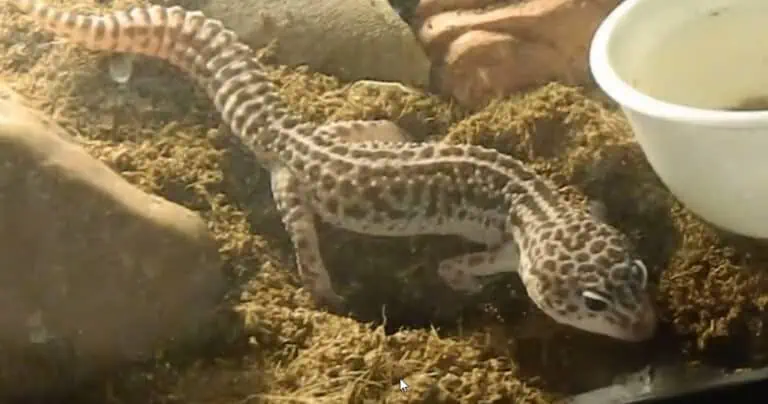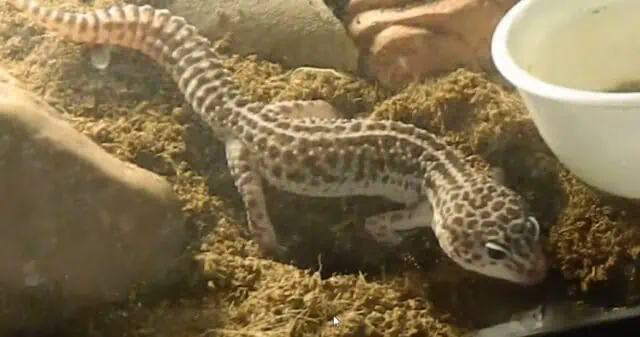 Leopard geckos, intriguing creatures with charming personalities, often baffle owners by engaging in frequent digging.
Digging as a Natural Instinct for Female Geckos
Digging is a deeply ingrained behavior in female leopard geckos, especially closely tied to their reproductive processes and instinctual needs. In the wild, female geckos excavate the earth to create a secure and concealed space to lay their eggs, safeguarding them from predators and environmental elements.
This instinct doesn't dissipate even in captivity; thus, witnessing a female leopard gecko indulging in digging might be a sign of her natural behavior.
Understanding this natural instinct is crucial to provide a supportive and nurturing environment, especially during their reproductive phase. By replicating conditions similar to their natural habitat, owners can meet the instinctual needs of female geckos, ensuring their well-being and contentment.
| Aspect | Detail |
| --- | --- |
| Behavior | Natural instinct for digging |
| Purpose | To create a secure space to lay and care for eggs |
| Leopard Gecko Type | Female |
| Importance | Replicating conditions similar to their natural habitat supports their well-being during the reproductive phase |
Excessive Digging as a Sign of Stress for Leopard Geckos
When a leopard gecko engages in excessive digging, it can be a signal of underlying stress, reflecting discomfort or unhappiness with their environment. Stress can also lead to biting in some cases, so it's a good idea to figure out if that is the problem.
Stress in leopard geckos can manifest due to several reasons such as improper habitat conditions, sudden changes in the environment, or inadequate diet.
| Aspect | Detail |
| --- | --- |
| Sign | Excessive Digging |
| Indication | Stress in Leopard Geckos |
| Causes | Improper habitat, sudden environmental changes, inadequate diet |
| Solution | Identify and alleviate the causes of stress to create a healthier environment |
Heat and Temperature Regulation
Proper heat and temperature regulation are pivotal for leopard geckos, influencing their behavior, including digging. In the wild, leopard geckos experience varied temperatures, and their bodies have adapted to regulate heat effectively, often through digging to find cooler or warmer spots as needed.
Hence, providing a temperature gradient within their enclosure is essential, offering them a choice between a heat source and a cool spot, allowing effective body temperature regulation.
| Aspect | Detail |
| --- | --- |
| Behavior | Digging for heat and temperature regulation |
| Importance | Allows geckos to regulate body temperature effectively |
| Solution | Provide a temperature gradient with a heat source and a cool spot in the enclosure |
In addition to temperature gradients, the right choice of hides and substrate can play a significant role in creating a conducive environment for leopard geckos.
Appropriate hides offer them a refuge to escape and regulate their body temperature, while the suitable substrate can aid in maintaining the right temperature and humidity levels
Because Leopard Gecko is Shedding
Leopard geckos undergo a shedding process, a natural occurrence where they shed their old skin to allow for growth. Digging can be part of this shedding process, serving as a mechanism to loosen and remove the old skin.
Recognizing the signs of shedding, such as dull and opaque skin, can help owners provide the necessary support to facilitate a healthy shedding experience.
| Aspect | Detail |
| --- | --- |
| Behavior | Digging during shedding process |
| Signs of Shedding | Dull and opaque skin |
| Importance | Assisting in healthy shedding experience |
Offering a moist hideout and maintaining optimal humidity levels in their enclosure can ease the shedding process for your leopard gecko.
Ensuring proper hydration and providing a suitable environment can prevent issues like retained shed skin, promoting healthier skin and reducing the risk of infections.
Because He's Just Hiding
Leopard geckos may also dig as part of their normal behavior to seek refuge or hide. Hiding is crucial for leopard geckos; it makes them feel secure both when awake or sleeping and helps in reducing stress. It is not uncommon for them to seek solace in concealed spaces, especially when exposed to bright lights or after excessive handling, both of which can be stress-inducing.
| Aspect | Detail |
| --- | --- |
| Behavior | Digging to hide |
| Trigger | Bright lights, excessive handling |
| Importance | Provides security and stress relief |
Ensuring your leopard gecko has ample hiding spots in their enclosure is crucial to cater to this natural inclination.
Instinct, Fun, and Curiosity
Digging is also an outlet for leopard geckos to express their instinctual nature, fun, and curiosity. Exploring their surroundings and digging around can be a form of entertainment for them, a way to satisfy their innate curiosity and natural instincts.
Providing an environment that encourages exploration and enrichment is crucial to meet their behavioral needs and to promote mental stimulation.
| Aspect | Detail |
| --- | --- |
| Behavior | Digging for fun and curiosity |
| Importance | Provides mental stimulation and satisfies natural instincts |
| Solution | Offer an environment that promotes exploration and enrichment |
Creating a diverse and stimulating environment with ample opportunities for exploration allows leopard geckos to exhibit natural behaviors and prevents boredom.
He's Looking For Food
Another reason leopard geckos dig is their inherent instinct to search for food. Leopard geckos are primarily insectivores, with a natural predisposition to hunt and search for prey. They may exhibit digging behavior when they are exploring their substrate in search of insects or other food sources, making it essential to provide a varied and nutritious diet to satisfy their hunting behavior.
| Aspect | Detail |
| --- | --- |
| Behavior | Digging in search for food |
| Diet | Insectivores, requiring a varied diet |
| Importance | Satisfies hunting behavior and nutritional needs |
Offering a range of live insects, such as crickets, mealworms, and waxworms, can help meet their dietary needs and stimulate their natural hunting instincts.
Lack of Space
Lack of space can lead to stress and encourage digging behavior in leopard geckos. Confined spaces can inhibit their natural behaviors and affect their mental and physical well-being, emphasizing the importance of providing a spacious and well-designed enclosure to meet their needs.
| Aspect | Detail |
| --- | --- |
| Issue | Lack of space leading to stress and altered behavior |
| Importance | Affects physical and mental well-being |
| Solution | Spacious and enriched enclosure with plenty of hiding spots |
A well-thought-out enclosure with enough room for exploration, hiding, and displaying natural behaviors is crucial for a leopard gecko's happiness.