Leopard geckos are typically solitary creatures, each preferring their distinct territories and spaces. However, understanding the conditions under which they can cohabit is essential for those who wish to keep multiple geckos.
Usually, only one male leopard gecko is recommended per enclosure to avoid territorial conflicts, but with careful consideration to space, resources, and environmental enrichment, multiple females may live together harmoniously.
Each combination of cohabiting leopard geckos has its unique sets of challenges and requirements.
Key Takeaways:
Cohabitation Risks: Male leopard geckos can exhibit territorial behavior, leading to aggression. It's advised not to house two males together.
Breeding Behavior: When a male and female leopard gecko share an enclosure, monitoring is vital during breeding and egg-laying times to avoid conflicts.
Habitat Requirements: Providing ample hiding spaces and maintaining temperature gradients (between 88-92°F for the warm end and 75-80°F for the cool end) is crucial for multiple geckos.
Size Matters: Avoid housing a baby leopard gecko with an adult. Adults may view the baby as prey, posing a serious risk.
Managing Aggression: Recognizing signs of aggression, like tail waving and biting, helps in taking preventive actions, such as providing separate enclosures.
How Many Leopard Geckos Can Be Kept Together?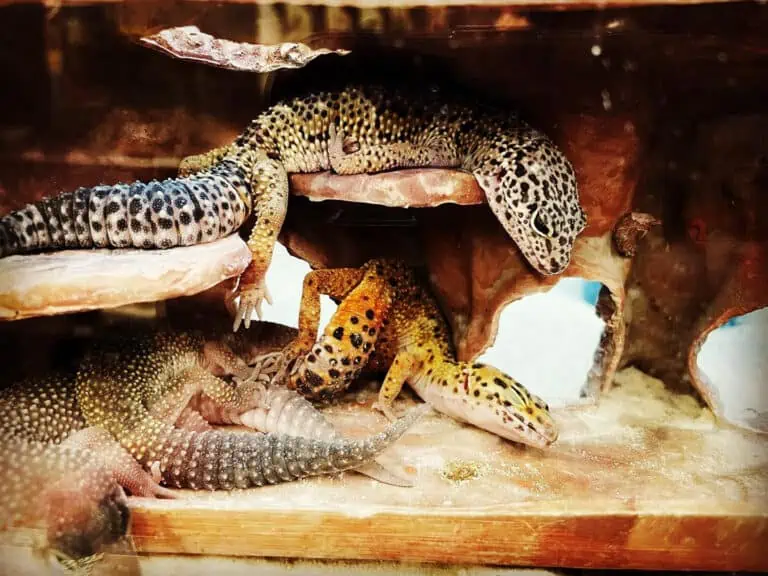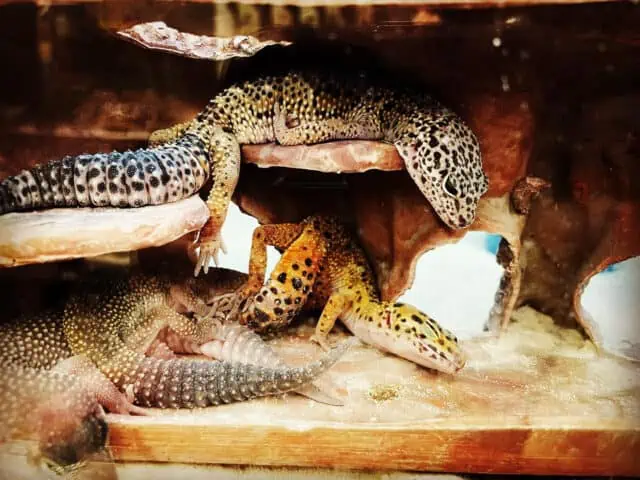 Determining the number of leopard geckos that can share a single space is crucial for maintaining a peaceful and healthy environment.
What Happens When A Male And A Female Leopard Gecko Live Together?
When male and female leopard geckos share an enclosure, it often opens a doorway to a set of distinct behaviors and interactions. Typically, these behaviors revolve around mating dynamics and, sometimes, aggression.
The presence of a male and a female leopard gecko together often leads to breeding. It's vital, therefore, to be prepared for the possibility of eggs. However, during this period, one might observe potential aggression or territorial disputes, especially during the breeding season. It's common for the male to become more assertive in his pursuits, which might stress the female.
Given these dynamics, it's imperative to monitor their interactions closely. Observing their behavior allows for early intervention if aggression is noted, preventing harm to either gecko. During breeding and egg-laying periods, separating them becomes crucial.
The female needs a stress-free environment to lay her eggs, and continuous interference or aggression from the male can be detrimental to her health and the eggs' viability.
Two Males
Housing two male leopard geckos together is fraught with challenges, primarily due to their inherent territorial and aggressive behaviors towards each other. These behaviors can manifest as frequent fights and screaming, causing stress and potentially leading to injury.
Keeping two males in the same enclosure is generally not advisable. Males are highly territorial and can exhibit aggressive displays, and fights over territory are common. This aggression is a natural instinct, aimed at establishing dominance and securing the best resources and mating opportunities.
Here are several reasons why two males exhibit such behaviors:
Territorial Disputes: Each male wishes to claim and defend his own space, leading to confrontations.
Competition for Resources: Food, basking spots, and hiding places are contested, causing strife.
Mating Rivalries: The presence of a female, even in adjacent enclosures, can intensify conflicts as each male vies for mating rights.
Given these inherent risks, separate enclosures are strongly recommended for male leopard geckos to avoid continuous stress and potential harm.
Two Females
When two female leopard geckos share the same enclosure, their behavior generally tends to be more congenial compared to their male counterparts. However, even in this seemingly peaceful arrangement, there are various factors and considerations that need to be addressed to maintain harmony.
When considering housing two females together, it is crucial to consider the relative size and resource availability within the enclosure. Ideally, both geckos should be of similar size to avoid any dominance or bullying behaviors. Additionally, sufficient resources such as food, water, and basking spots should be abundantly available to minimize competition and potential disputes.
Each gecko requires adequate space and multiple hiding places within the enclosure to feel secure and to have the option to retreat and have some alone time. Having multiple hides allows each gecko to have her own territory within the enclosure, reducing stress and potential conflicts.
However, despite these provisions, challenges and conflicts may still arise between the two females. It is crucial to monitor their behaviors and interactions regularly to detect any signs of stress or aggression early on and intervene if necessary.
Baby Leopard Gecko and an Adult
When a baby leopard gecko and an adult are placed in the same enclosure, their interactions can be particularly delicate and require careful attention. The difference in size and maturity levels often results in a power imbalance, making the environment stressful and unsafe for the younger gecko.
It is generally not recommended to house a baby and an adult leopard gecko together. The adult gecko may perceive the baby as prey due to its small size, posing a serious risk to the baby gecko's safety. This precarious situation demands vigilant monitoring and intervention to protect the baby gecko from harm.
In light of these risks, it's crucial to remove newly hatched leopard geckos from the adult's tank immediately. They should be housed separately until they are sufficiently grown and able to fend for themselves. Reintroduction should only be considered when the younger gecko is large enough to catch prey on its own and defend itself against any potential aggressions from the adult.
Tank Size Requirements for Housing Multiple Leopard Geckos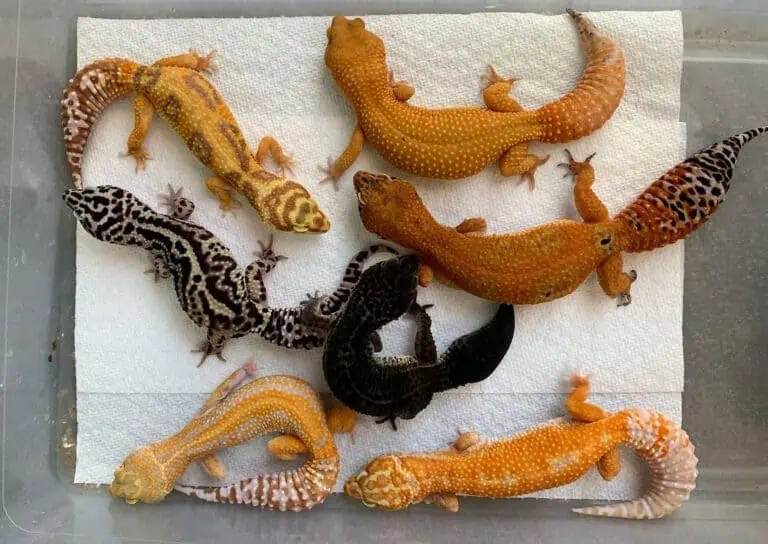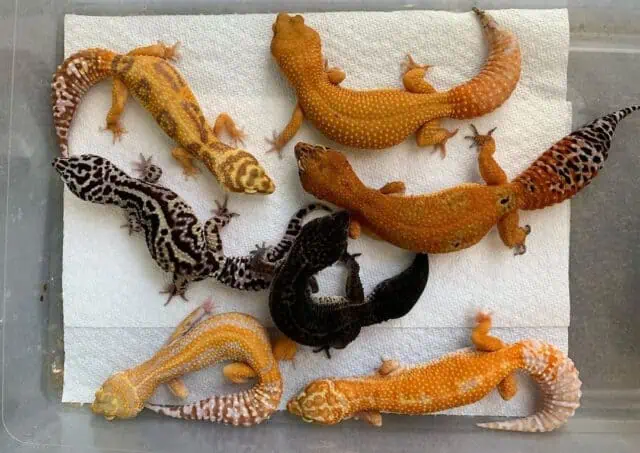 When considering housing multiple leopard geckos together, the size and configuration of the tank are paramount. A well-planned enclosure caters to each gecko's need for personal space, hiding areas, and access to resources, reducing the potential for stress and conflict.
Hiding Spaces, Personal Space and Temperature Gradients in the Enclosure
Successfully housing multiple leopard geckos in one enclosure necessitates careful consideration of several factors, including hiding spaces, personal space, and temperature gradients. These elements are critical in creating an environment that allows each gecko to thrive and coexist peacefully with others.
Hiding spaces are indispensable for leopard geckos. They provide a sense of security and a place to retreat, allowing geckos to establish their own territories within the enclosure. By offering ample hiding spaces and ensuring sufficient personal space, geckos can avoid unwanted encounters and the likelihood of aggressive interactions is significantly reduced.
Temperature gradients are another crucial aspect of the enclosure, playing a vital role in the geckos' thermoregulation needs. The enclosure should have a warm side, with temperatures around 88 to 92 degrees Fahrenheit, and a cooler side, maintained at around 75 to 80 degrees Fahrenheit. This allows the geckos to regulate their body temperature effectively by moving between the warm and cool areas as needed.
Integrating the concept of a hot and cool hide in each gecko's territory caters to their comfort and wellbeing. A hot hide positioned on the warm side of the enclosure and a cool hide on the cooler side provide the geckos with options to relax and feel secure in a temperature-controlled environment.
Aggressive Behavior Between Leopard Geckos Living Together in a Single Enclosure
Leopard geckos, while remarkable and fascinating creatures, can display aggressive behavior when housed together in a single enclosure. Understanding the nature, causes, signs, and management strategies of such behavior is crucial for maintaining a harmonious and safe environment for these reptiles.
Aggressive behavior in leopard geckos is often triggered by competition for resources, territorial disputes, or the presence of multiple males. This aggression can manifest as biting, tail wagging, and vocalizations, often leading to stress, injuries, and in severe cases, fatalities.
The causes of such behavior are typically rooted in a leopard gecko's instinctive need to establish dominance and secure resources. Inadequate space, lack of hiding spots, and imbalances in size and age between geckos can exacerbate these aggressive tendencies, escalating conflicts and leading to detrimental consequences for the geckos involved.
Recognizing the signs of aggression early is paramount. Observing changes in behavior, such as increased hostility or reluctance to leave hiding spots, can act as indicators of underlying tensions. Managing aggression involves providing ample space, ensuring equal access to resources, and, when necessary, separating conflicting individuals to prevent harm.
Strategies to manage and mitigate aggression include:
Regular Monitoring: Regularly observe the geckos' behavior to detect signs of stress or aggression early on.
Provision of Resources: Ensure sufficient availability of resources like food, water, and hiding spaces to reduce competition.
Adequate Space: Provide enough space and territorial boundaries within the enclosure to help minimize disputes.
Separation: If aggression persists, consider housing the conflicting geckos in separate enclosures to prevent harm and reduce stress.