The average size of the adult leopard gecko is 6-10 inches in length and weighs between 45-90 grams. This size varies based on gender and genetics. Leopard geckos are popular pets due to their unique look and manageable size. Knowing their growth and size is important for their care.
Key Takeaways:
Average Size: Adult female leopard geckos typically measure 7-8 inches in length and weigh 45-70 grams, while males are slightly larger, reaching 8-10 inches and weighing 60-90 grams.
Growth Rate: Leopard geckos reach their adult size by approximately 18 months, with their growth rate slowing down as they approach the sub-adult stage.
Special Breeds: Giant and super giant leopard gecko morphs, selectively bred for size, can attain lengths of up to 12 inches, necessitating larger enclosures and specific dietary considerations.
Diet: Their primary diet is insect-based, with crickets, mealworms, and dubia roaches being staples. Offering a variety of insects and maintaining an appropriate feeding frequency according to age is essential for optimal health.
Baby Geckos: Newborn leopard geckos are between 3-4 inches in length and weigh between 2-5 grams. By 1 month, they grow to around 4 inches. Ensure their container has a shallow water dish to prevent drowning risks.
Growth Chart: From Hatchling to Adult Leopard Gecko
The growth rate varies between males and females, with each having its unique trajectory. Below, we provide two growth charts that shed light on the average weight and body length of leopard geckos at different ages.
Male Leopard Geckos Growth Chart
Leopard geckos exhibit sexual dimorphism, meaning males and females have distinct physical differences. Male leopard geckos generally grow larger than their female counterparts. Here's a detailed growth chart for male leopard geckos:
| Age | Weight | Length |
| --- | --- | --- |
| Hatchling | 3-5 grams | 3-4 inches (7.5-10 cm) |
| 1 Month | 5-10 grams | 4-5 inches (10-12 cm) |
| 3 Months | 10-20 grams | 5-6 inches (12-15 cm) |
| 6 Months | 20-40 grams | 6-8 inches (15-20 cm) |
| 1 Year | 45-60 grams | 8-9 inches (20-23 cm) |
| 18 Months | 60-80 grams (or more) | 8-10 inches (20-25 cm) |
Female Leopard Geckos Growth Chart
Female leopard geckos, while vibrant and active, typically stay a bit smaller than males. Their growth chart showcases this difference:
| Age | Weight | Length |
| --- | --- | --- |
| Hatchling | 3-5 grams | 3-4 inches (7.5-10 cm) |
| 1 Month | 5-10 grams | 4-5 inches (10-12 cm) |
| 3 Months | 10-20 grams | 5-6 inches (12-15 cm) |
| 6 Months | 20-30 grams | 6-7 inches (15-18 cm) |
| 1 Year | 35-50 grams | 7-8 inches (18-20 cm) |
| 18 Months | 45-70 grams | 7-9 inches (18-23 cm) |
Note: The numbers presented in these tables are approximate averages. Individual leopard geckos can vary based on factors like genetics, diet, and overall health.
How Big Does a Leopard Gecko Get?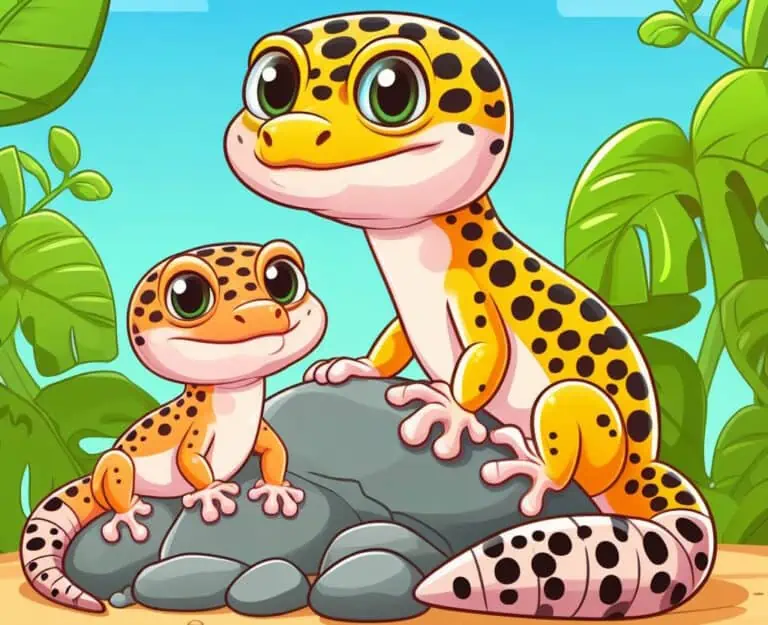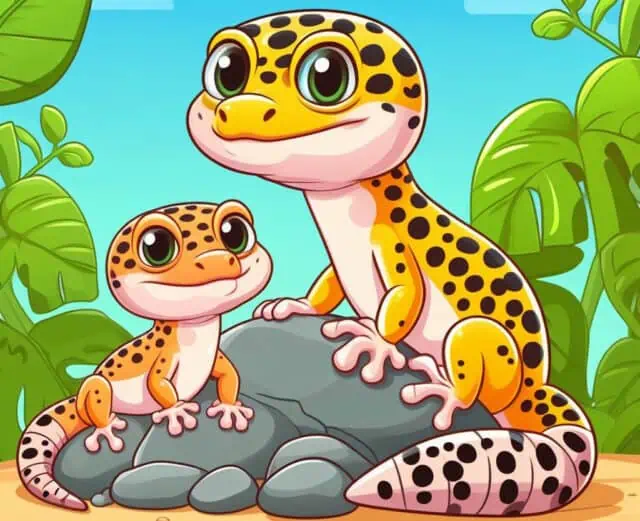 One of the common questions new leopard gecko owners often ask is about the size they can expect their pet to reach. As with many animals, size varies between the genders, but there are average measurements we can refer to.
An adult leopard gecko, irrespective of its gender, boasts a robust build with a relatively thick tail, which serves as a fat reservoir. While both male and female geckos exhibit vibrant colors and patterns, their sizes can differ significantly. On average, female leopard geckos measure between 7-8 inches in length and have a weight range of 45-70 grams. Males, on the other hand, are typically larger, reaching lengths of 8-10 inches and weighing between 60-90 grams.
Leopard geckos have a swift growth rate during their initial stages of life. It's fascinating to observe these creatures evolve in size over a short span. By the time they're a year old, most leopard geckos have achieved their adult size. However, minor growth and weight fluctuations might still occur as they mature and depending on factors like diet and health.
Large Leopard Gecko Morphs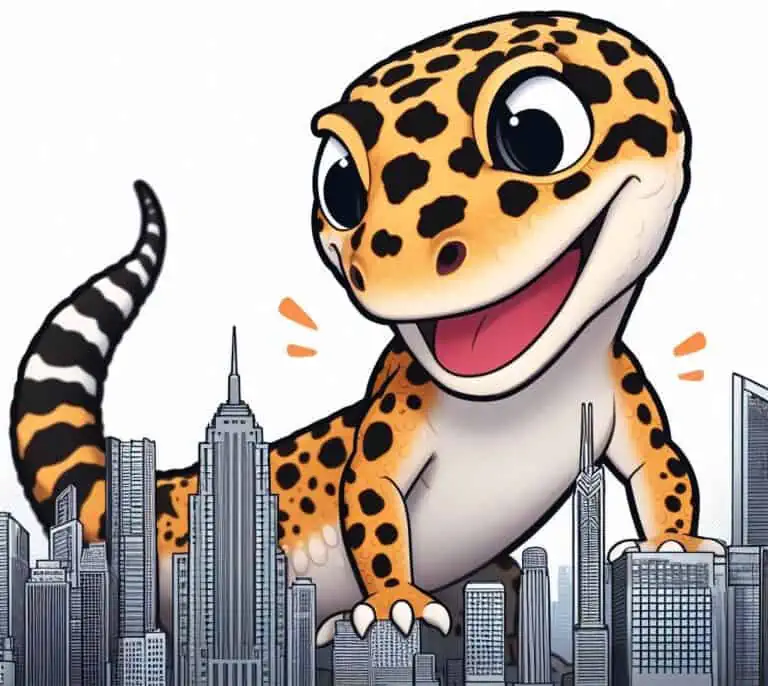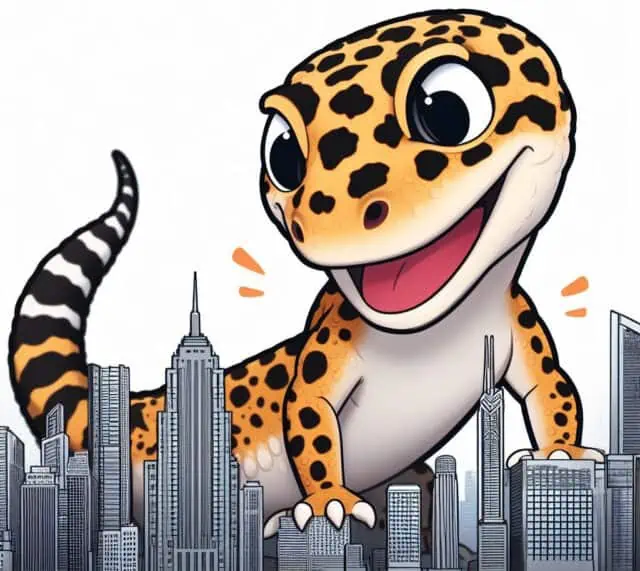 When venturing into the world of leopard geckos, enthusiasts might come across some terms that are not immediately familiar. One such term is the large leopard gecko morphs. These are not your average-sized leopard geckos; they've been selectively bred for their impressive size.
Giant and Super Giant Leopard Geckos
Within the large leopard gecko morphs, there are specific classifications known as the "giant" and "super giant". These names aren't merely titles; they accurately describe the size of these geckos. While the typical leopard gecko ranges between 6-10 inches, the giant and super giant variants can stretch out to a staggering 12 inches. This notable difference in size can be attributed to meticulous breeding processes focusing specifically on the size trait.
Owning a giant or super giant leopard gecko comes with its unique set of challenges. Given their substantial size, they naturally demand more space. This means owners should invest in a slightly larger enclosure to ensure the gecko has ample room to move, explore, and thrive. Along with housing considerations, their dietary needs might also differ. These larger geckos might have a bigger appetite and may require more food or larger prey items to satisfy their nutritional needs.
How Big Are Baby Leopard Geckos?
The charm of baby leopard geckos isn't just in their curious eyes and vibrant patterns but also their diminutive size. These tiny creatures start their journey in life measuring between 3 and 4 inches in length. As for their weight, it's as feather-light as one would expect, typically hovering between 2 and 5 grams. These metrics might seem insignificant, but for these baby reptiles, it's the beginning of a journey of growth.
When housing these baby reptiles, the container size is vital. They might be small, but they're active and curious. A decently sized container not only ensures they have space to explore but also reduces the risk of stress, which is essential for their growth and overall health. However, while it's tempting to provide them with a large space right from the get-go, a moderately sized container is recommended initially. It makes it easier for them to find their food, ensuring they get the nutrition they need.
Water is vital for all living beings, and baby leopard geckos are no exception. However, their small size poses a potential risk when it comes to traditional water dishes. To mitigate the risk of drowning, a shallow water dish is essential. This allows them to hydrate without the associated dangers of deeper dishes.
A remarkable aspect of these geckos is their rapid growth rate. By the time they reach the age of 1 month, you can expect them to have grown to around 4 inches in length.
When Do Leopard Geckos Stop Growing?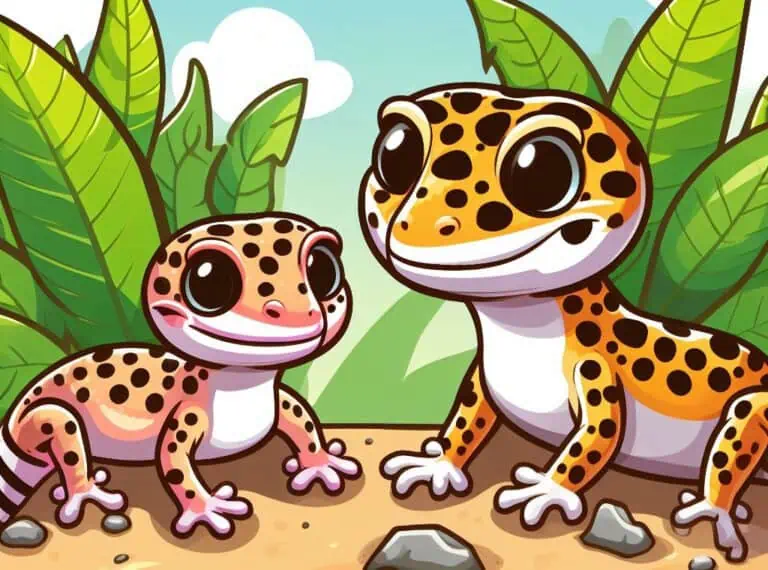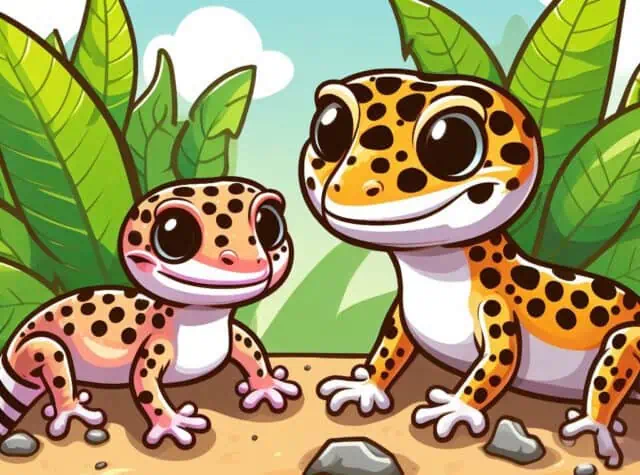 The journey of leopard gecko growth is a fascinating one. Contrary to what some might think, these creatures don't halt in size after their first year of life. Instead, they continue to grow, albeit at a diminished rate, throughout their adult stage. This prolonged growth phase means that they're always evolving, albeit subtly, in their physical dimensions.
As leopard geckos transition from their juvenile stage, they approach what's known as the sub-adult age. It's during this period that a noticeable shift in their growth dynamics occurs. Their rapid growth starts to decelerate, and the pace slows down considerably. This slowdown doesn't mean they've reached their zenith in terms of size, but it's a clear indication that they're maturing.
By the time they're around 18 months old, leopard geckos generally reach their full size. But, as with many species, there's a gender disparity in terms of size. Typically, females tend to be slightly smaller than their male counterparts. While both genders are impressive in their own right, males usually boast a slightly more robust physique.
Healthy Growth and Nutrition Requirements
When it comes to ensuring healthy growth for leopard geckos, understanding their nutrition requirements becomes pivotal. Just like any living being, the sustenance they receive plays a central role in their overall health, growth, and longevity. It's not just about quantity; the quality of what they consume is equally critical.
The ideal diet for leopard geckos is primarily insect-based. Their carnivorous nature means they thrive on a diet rich in protein (don't worry though, they don't consider us food and if they bite they're not poisonous). Crickets, mealworms, and dubia roaches are some of the staple insects that are commonly fed to them. But remember, variety is the spice of life, even for these reptiles. Introducing a variety of insects not only ensures they receive a range of nutrients but also keeps their interest piqued. It's essential to note that the insects should be gut-loaded, meaning they've been fed nutritious foods before they are offered to the gecko. This process ensures that the nutrients are passed on to the gecko, optimizing their health.
Feeding frequency varies with age. Hatchlings and juveniles are growing rapidly and thus require food daily. As they transition to the sub-adult stage, the frequency can be reduced to every other day. Once they hit adulthood, feeding them three to four times a week is sufficient.
It's also worth noting that the size of the insects should be appropriate to the gecko's size. As a general rule, the insect's length shouldn't exceed the space between the gecko's eyes.